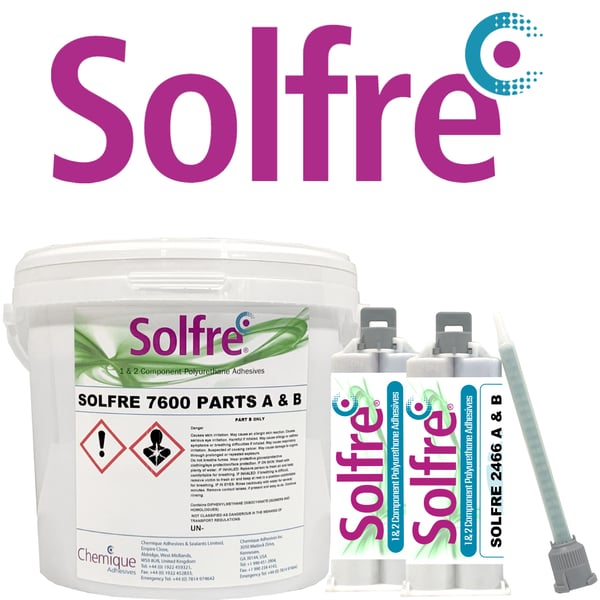 Two-part polyurethane adhesives are a type of chemical bonding system that utilizes a urethane and a hardener that are generally separated into two pouches or containment compartments. Unlike their single component counterparts that cure using environmental moisture, two-part polyurethane adhesives only activate through a chemical reaction that beings once both components are combined. Having the bonding process begin in this manor provides room for the creation of precision curing rates through customizing formulations, or by tailoring the mixing ratio to the curing requirements needed. This is vastly different from one-part polyurethane adhesives, which generally require environmental moisture to start the bonding process and to tune the curing rates.
Applications
Use cases for two component polyurethane adhesives are wide and vary across many industries. Two-part polyurethane adhesives are well suited for assembling a wide variety of dissimilar materials, notably porous materials (concrete, plaster, etc.), metals, glass and several thermoplastic materials and composites. At Chemique Adhesives, our most popular use case for two-component polyurethane adhesives is in the manufacture of composite panels, including aluminum honeycomb panels, RV wall panels, refrigeration panels, and structural insulated panels.
Two Part Polyurethane Advantages
Strength: Two-component (two part) adhesives are incredibly strong and durable without the brittleness often found in epoxies adhesives, and cyanoacrylates. Though mixing is a requirement, the used of mixing nozzles and premeasured kits make this process a breeze for the end user. In manufacturing environments, mixing is accomplished through automated processes controlled by sophisticated pumping systems.
Controlled Curing: Another popular advantage to using two-part polyurethane adhesives is that they cure at room temperature without the need for heated presses. Though pressing and clamping is still recommended, the bond is based on the original chemical reaction and not off any application of heat. This allows end users to utilize lower cost vacuum presses, weighted presses, or shop clamps based on the job.
Elasticity: For transportation panel manufacturers, the main attractive features two-part polyurethane adhesive offers are in the final assembly. Polyurethanes have high resistance to impacts and vibrations, thanks to their elasticity (the product can be used to assemble materials with different coefficients of thermal expansion), and its impressive mechanical performance (the product can bond and seal at the same time).
Waterproof: Once fully cured polyurethane bonds are waterproof, making it a good adhesive choice for marine environments, and outdoor projects. Popular uses include laminating marine panels in boat building and yacht manufacturing.
Solvent Free: Two component polyurethane adhesives like Chemique's Solfre2 are solvent-free and contain no free isocyanates. This means that they're environmentally friendly, safer to use indoors, and safer for the installers that apply the adhesives. Chemique still recommends the use of extraction systems if you spray polyurethane adhesives.
If you or your business is interested in learning more about polyurethane adhesives, please feel free to contact one of our adhesive experts for a free consultation. With nearly 40-years in the polyurethanes business, Chemique is a pioneer and leader in the formulation and application of solvent-free polyurethane adhesive systems. We offer tailor made bonding solutions to suit each manufacturers need, and all adhesive sales are backed by Chemique's Total Service Package which ensures you receive the right product, the right system, and the right after sales support for your business. Follow Us on Facebook, Instagram, Twitter and LinkedIn and Contact Us on the website. For small business and residential sales, visit www.purchaseadhesives.com.