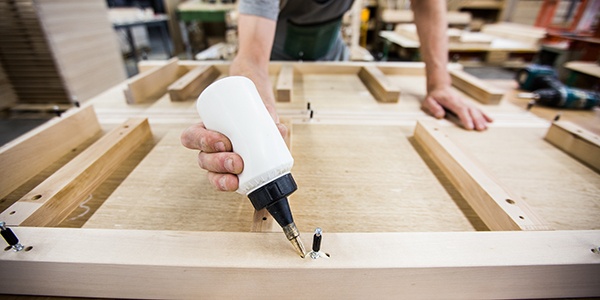 If you are a furniture manufacturer or foam conversion business in the southeast that loves to stay up-to-date on the newest, and hottest, manufacturing trends it's likely you attended the recent Home Furnishings Manufacturing Solutions Expo in Greenville, South Carolina. This year's show brought out the latest products, services, and machinery innovations from a global range of suppliers all aiming at helping manufacturers improve production and stay ahead of regulatory environmental policy.
At this year's HFMSE expo, Chemique Adhesives displayed a variety of adhesive and application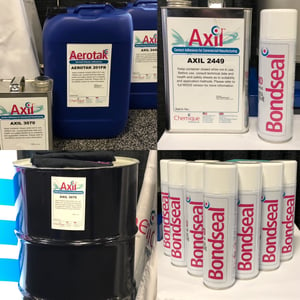 equipment options specifically designed to enhance current productions processes. Front and center, next to the main entrance, were Chemique's line of performance grade, furniture and foam adhesives. This product feature included: Axil 3070 - developed for bonding synthetic foams to wood, metal foils, and textiles to name a few; Bondseal 2080 - a general purpose aerosol adhesive perfect for foam bonding, office seating, and furniture that also utilizes environmentally propellants; Axil 2449 - a versatile, sprayable adhesive ideally suited for an extremely wide variety of applications including foam and textiles; and lastly, Aerotak 201FR - ideal for foam, fabric, leather, and e-leather applications when a fire retardant bond is required.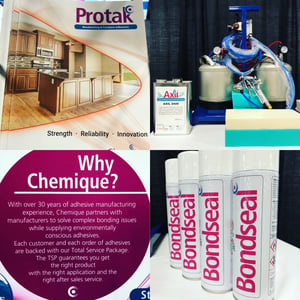 Also present at the Chemique booth was a small sample of our tailor-made engineering services via a finely-tuned, enhanced pressure pot adhesive application system. This new spray system featured several refinements across the build that enhanced overall durability while also offering smoother function, more consistent spray patterns, and improved portability.
Manufacturers across the entire industry supply chain were well represented not only on the exhibition floor, but also during exciting displays of advancements at the manufacturing excellence awards. Taking home the Manufacturing & Supply Chain Innovation Awards were Ashley Furniture Industries - Manufacturing Innovation; and Bassett - Supply Chain Excellence. The Product Design and Innovation Awards went to both Southern Motion - Upholstery and Motion, and Hooker Furniture - Case Goods. Winners of the Domestic Manufacturing Excellence Awards for demonstrating on going commitment to domestic manufacturing through investments in operational efficiency and continuous manufacturing improvement processes were Klaussner Home Furnishings - Operation Excellence; and for continuous improvement - Jackson Furniture.
The Importer of the Year Award went to A.R.T. Furniture, and Upholstery Supplier of the Year was Glen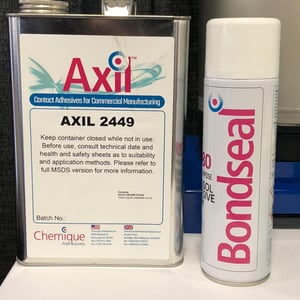 Raven. The final recognition of the show, the HFMSE Plant Management Award, went to United Furniture Industries for their consistent growth over the past several years and being known for quickly integrating plants, operations, technology and employees to create better furniture efficiently and expediently.
In all, year two of the Home Furnishings Manufacturing Solutions Expo was a great success. A diverse and well represented group of the industry's best manufacturers and suppliers turned out, placing on full display their continuous improvements, technical innovations, and showed their contributions to an ever-evolving industry that spans the globe. If your business operates anywhere in the home furnishings supply chain, you need to visit this show in 2019.