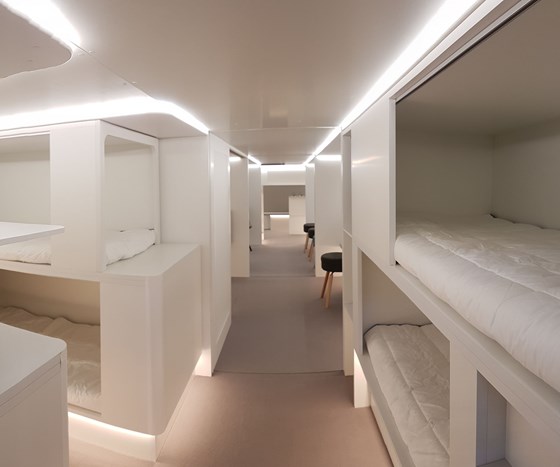 Modular sleeping berths integrate in the aircraft's existing cargo areas - Image Source, Airbus
Recently announced, industry giants Airbus and Zodiac Aerospace forge a new partnership to develop lower-deck modules outfitted with passenger sleeping berths. Fitting inside the aircraft's cargo compartments, these modules offer new opportunities for new passenger services improving overall passenger experience and adding value to commercial operations. Depending on flight requirements, these sleeper modules are easily interchangeable with cargo containers allowing the aircraft to be suited for various flight plans.
"We are delighted to work with Airbus on this new and innovative project, which reaffirms our expertise in lower-deck solutions. An improved passenger experience is today a key element of differentiation for airlines."say Christophe Bernardini, CEO of Zodiac Aerospace.
Geoff Pinner, Airbus Cabin and Cargo Program head says, "This approach to commercial air travel is a step change towards passenger comfort. We have already received very positive feedback from several airlines on our first mock-ups. We are pleased to partner with Zodiac Aerospace on this project which will introduce a new passenger experience and add value for airlines."
By 2020 airlines will be able to choose from a catalog of solutions for A330 retrofit and line-fit markets. Currently being studied is the feasibility of the modular sleeping compartments on the A350 XWB airliner. This new innovation is building on both Airbus' and Zodiac Aerospace's expertise in manufacturing and implementing lower deck crew systems.
Read more about Airbus and Zodiac Aerospace's new partnership in the Composites World article here.
Chemique Adhesives is no stranger to the aerospace industry. In fact, Chemique's Aerotak is a new range of adhesives developed specifically for the aircraft interiors industry. The range includes both flammable and non-flammable formulations suitable for style pad manufacturing and provide convenient, versatile and easy to use options for bonding combinations of fabric, leather, foam, e-leather and scrim materials into style pads, utilizing a hot press stamping method. To learn more about Aerotak and other adhesive options we have available, Click Here.